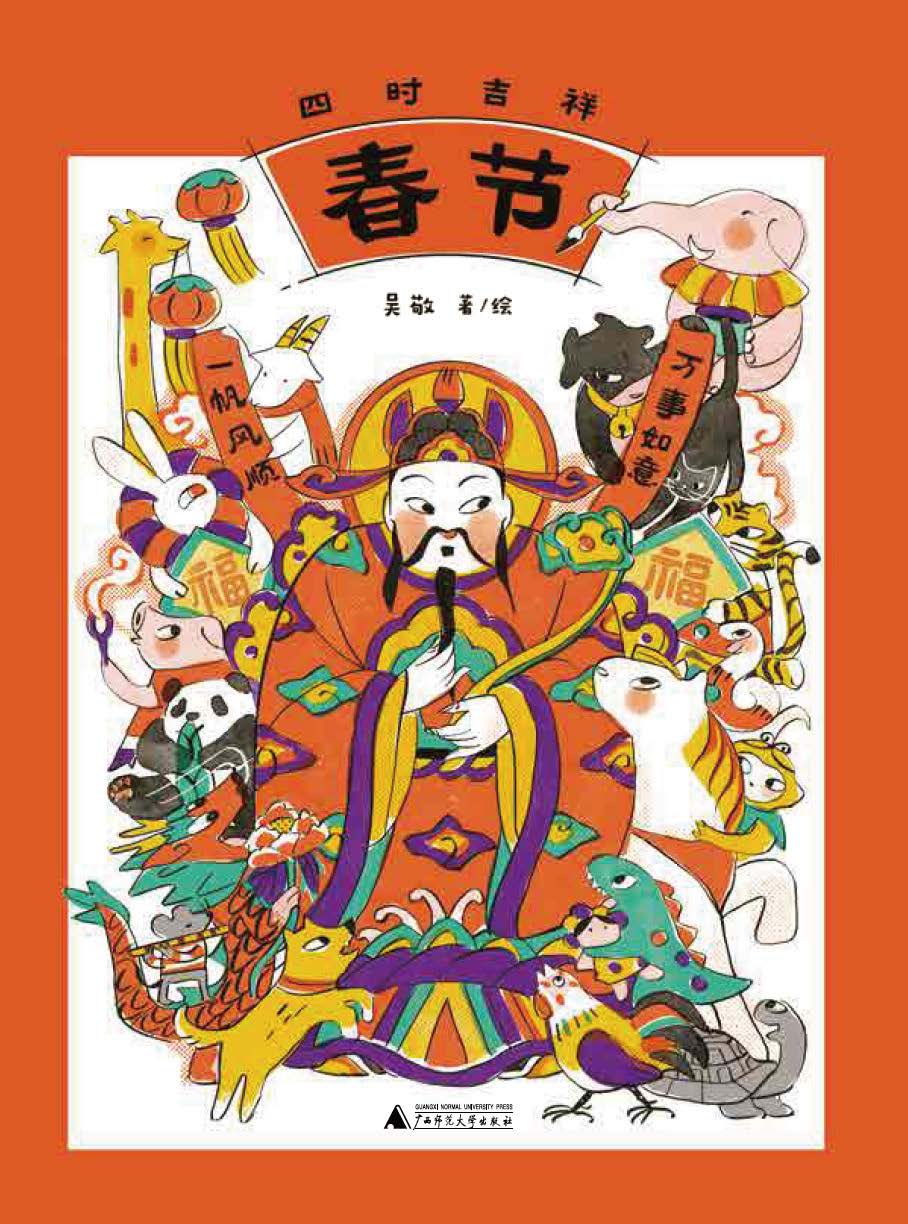 Winter · Spring Festival 
FOUR AUSPICIOUS SEASONS series

Author & illustrator: Wu Jing

Hardcover, 32 Pages, Age 3+
The Magic Elephant Books, 2023

World rights available.

Handling territories:
World exclude China.

中文信息,請將頁面往下拉👇

How do contemporary Chinese people celebrate the traditional Spring Festival? This book depicts traditional customs and scenes from Laba celebrations such as New Year's Eve and the Lantern Festival. In the story, the Chinese Zodiac gathers and joins the adults and children in celebrating the New Year.
The story not only preserves traditional customs, but also depicts modern China. The illustrations present a new China that is both ancient and fashionable.
The first book in the "Four Auspicious Seasons" series.
---
About the Author
Wu Jing, graduated from the Department of Decoration, Academy of Fine Arts & Design, Tsinghua University. Freelance illustrator specializing in drawing and designing of children's books and merchandise. In 2020, she won the Bingxin Children's Book Award. Her representative works include Golden Bird, Panda's Happy Chinese Year and World Heritage in China.
---
冬·春節 ——「四時吉祥」系列

作者:吳敬 著繪

精裝,32頁/册,3歲+
廣西師範大學出版社,2023

可授權:繁體中文

《冬·春節》是"四時吉祥"系列的第一冊。現代的中國人怎麼慶祝傳統春節?本書展示了從臘八、春節到元宵整個過年期間的傳統習俗和場景。十二生肖在故事中集結,陪伴著中國家庭,一起熱熱鬧鬧過大年。故事既保留了傳統習俗,又呈現出當代中國的新鮮氣息,以傳統年畫的色彩和豐富的細節展現古老又時尚的中國。
---
插畫家簡介
吳敬,清華大學美術學院裝潢系畢業。自由職業插畫師,專職從事兒童圖畫書、兒童出版物和商品的繪畫和設計。2020年榮獲冰心兒童圖書獎,代表作有《金鳥》《熊貓的歡樂中國年》《世界遺產在中國》等。