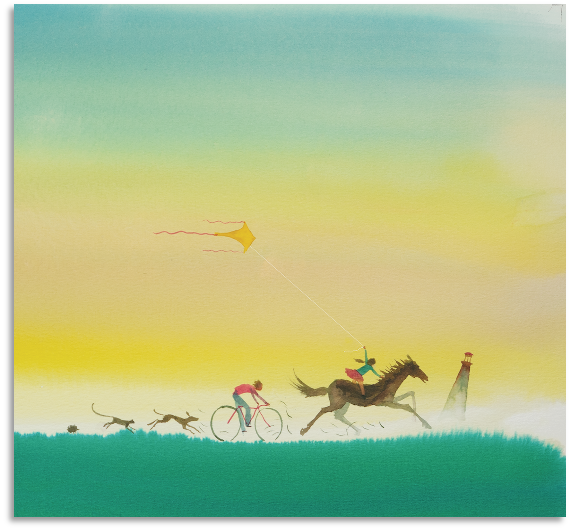 I Wish I Could Be

Author: Cao Wenxuan
Illustrator: Alessandro Sanna

Hardcover, 48 Pages,Age 4+
Citic, 2023

World Rights available.

Handling territories:
World exclude China.

中文信息,請將頁面往下拉👇

Birds, kites, clouds, rain, roses, trees, boats, seas, lighthouses, lanterns, dogs, cats, rivers, melon fields… Each character in the book is dissatisfied with his or her situation and wishes to be the next one. They all have legitimate reasons for aspire to be someone else. However, when they look up to others, they keep forgetting to appreciate their own circumstances.
We've all wanted or dreamed about becoming someone else, but does that solve the problem? The value of a person's situation is determined by how he or she perceives it, and if you keep looking up to others, you will forget to appreciate your own.
About the Author
Cao Wenxuan grew up in rural China and is now a professor of Chinese literature and children's literature. He is the author of several celebrated books for young readers, including the novel Bronze and Sunflower, which received three starred reviews. His fluid, poetic prose depicts honest, sometimes raw, and often melancholy moments of life. He has also received significant recognition for his academic research and teaching in the field of children's literature, and he was the first Chinese author to win the Hans Christian Andersen Author Award.
---
變變變

作者:曹文軒
繪者:Alessandro Sanna

精裝,48頁,3歲+
中信出版社,2023

可授權:繁體中文

當你羨慕他人的境遇,想要變成他人時,殊不知自己卻是他人豔羨的物件。
安徒生大獎兒童作家曹文軒攜手水彩造夢大師亞歷山德羅·桑納。
刺猬、自行車、男孩、馬、鳥、風箏、雲、雨、玫瑰花、樹、船、大海、燈塔、燈籠、狗、貓、河流、瓜田……書中出現的每一個角色都對自己的境遇感到不滿,渴望變成下一個角色。它們都有想變成他人的充分理由。但在仰望他人時,常常忘了欣賞自己的境遇。
我們都想或者曾經想過變成另一個人,但是如果變成了另一個人,問題就解決了嗎?一個人境遇的好壞取決於自己怎麼看,如果總是仰望他人,就會忘了欣賞自己的境遇。
---
作者簡介
曹文軒,中國著名兒童文學作家,2016年國際安徒生獎獲得者。北京大學中文系教授、博士生導師。作品先後榮獲國家圖書獎、「五個一工程獎」優秀作品獎、全國優秀兒童文學獎、中國圖書獎、宋慶齡兒童文學金獎、冰心文學獎大獎等獎項。作品被譯介到英、法、德、日、韓等國家。